It's official! The party has begun and WOW the attendees are hip and happening!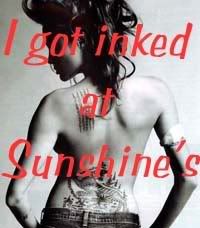 Sunshine's tattoo party is in full effect. Many party goers have me stumped though quite a few have sparked my interest in yet another tattoo.

So join in, go and vote or at least check out all the cool ink that is out in the bloggershere. See if you can find me .. I will give you a hint, I am letter.....