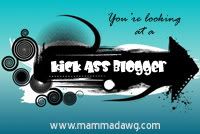 My first award. I am so giddy!! The wonderful Kaza nominated me for the Kick Ass Blogger Award **blushing** over at her glorious abode. She and I are lost kindred souls and I always find myself nodding my head profusely when I read her posts. It is causing me a lot of neck and wine spillage but in the end, it is all worth it. Someday we will clink glasses and toast our kick ass selves! I am holding her to it!! But in all honesty, I am so honored and deeply touched that she thought of me.... sigh.

So now, according to 'the rules', I have to pass this pleasure to five other bloggers extraordinaire. Only five.... are you sure? Damn. Well, here is who I scrounged up honored:

1) Izzy - Izzy is as true and genuine as they come. Really, who doesn't love a fellow lunch box sniffer?!

2) Lisa the Midwestern Mommy - Her blog is a breathe of fresh air and she is super sweet. I can't wait to meet her at BlogHer next year!

3) Sunshine at and the pursuit of happiness - she can host some mean parties and has an inner wild child men dream of concurring!

4) Diane at The Mommy Diaries - Diane is open and honest and training to ride like a bazillion miles on her bike! Rock on sista!

5) Katie at Mother Bumper - Katie makes me laugh like nobodies business with her wicked sense of humor.

Now go and check out the divine divas I honored, leave them some comment love and enjoy all they have to offer! Want to check out some other kick ass bloggers and tag your own favorites? Hop, skip or jump on over to MammaDawg's award page. (And go visit MammaDawg's blog while you're at it!) Share the love people!